We don't make business,
We bring happiness to people.
Let's do it together!
During the years of experience, Lacart Design has shown itself as a company which is favorable and easy to cooperate with. And all because one of the priorities of our work - we direct our attention to the needs of our clients, who are purchasing our greeting cards as a wholesale, retail and etc.
We sell what is important. During the autumn, we remember that about the Christmas and New Year, during the winter we are not forgetting about the Women's Day and during the summer we don't forget about the school season.
We create a convenient and understandable product. Each greeting card has a price code which is twice indicated on the back side: as bar code EAN-13 for scanners and as visual code for buyers and sellers.

We are helping you to grow your business. The main purpose of our work- the development of long-term relationships with our partners, based on the principles of improving the efficiency and development retail sales. To achieve this, we are offering the best designs greeting cards: product with the highest quality and we are constantly updating the assortment of our product.
Working with the retail outlets, we are providing with a full range of services: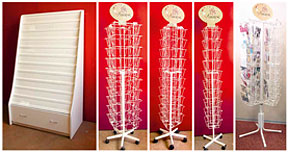 Special trade equipment which helps to place greeting cards highly favorably for visual perception;

Sales representatives assigned to your location

We are helping to put all the orders together

Orders delivery

Placing of production and merchandising ;

Return of seasonal products and etc.
We provide our special clients with special terms of work. As for confirmation our flexible discount system: for the volume of purchased products and for prepayment. Also we have some additional discounts for dealers.
For all our clients we have just one condition:
The minimum sum of the order is 10 000 rubles

The minimum quantity of one design – 10 items (1 set).
You can receive more detailed information from the sales department 8 (495) 231-16-79 or by e-mail moscow@lacart.ru - sales in Moscow
region@lacart.ru - Regional Sales Office.
We are always glad to give you advice, provide you with our catalogue of products and select what is right for your own business.
Thanks to this approach partners of Lacart Design receive good benefits and buyers get a great joy. A typical form of cooperation is available only for registered users (you can download it as DOC).